Web Case Study
2 Henry Adams
SF's Best Brick & Timber PDR Space
Overview
2 Henry Adams is a historic brick-and-timber PDR (production, distribution, and repair) space located in the heart of San Francisco's Art District. Owned and managed by Deutsche Bank's Real Estate Asset Management division, this property is a prime location for up-and-coming tenants focused on robotics and tech.
Our marketing team at Cushman & Wakefield was tasked with rebranding the position and developing print and digital marketing collateral that showcases the property's features and availabilities.
View Website
Skip to Results
Challenge
Design
The biggest challenge was to design and build a dynamic website from limited copy and imagery while being tasked with taking full responsibility for developing the project.
Development
The second challenge was developing an interactive experience, one that would tell the story of 2 Henry Adams and what the property has to offer.
Design
The design was based on the new branding and print brochure that our team developed with the client during the first few rounds. We then moved into repurposing the approved aesthetic and content into a single scrolling site.
Development
After approval, I began bringing over the content from the single scrolling mockup and brochure into the HTML. Using Foundation for Sites by Zurb to style the site, special attention was paid on building a 3D map showcasing the property's location and what the area around 2 Henry Adams has to offer.
Results
The result is a concise and elegant website with a tech-friendly aesthetic that features a 3D interactive map for prospective tenants.
View Website
Mobile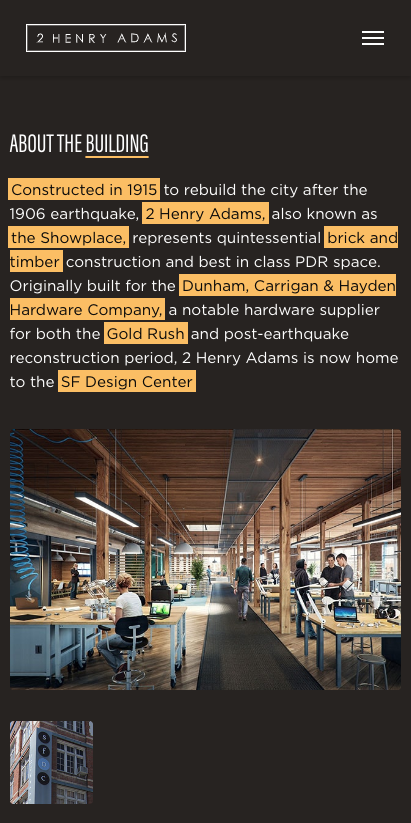 Desktop
Team
Client – Deutsche Asset Management—Real Estate
Agency – Cushman & Wakefield
Project Manager – Angie Espejo
Print Designer – Rishad Amarkhel
Web Design – Gustavo Youngberg
Web Development – Gustavo Youngberg
Copy Editor – Angie Espejo
Awards
Cushman & Wakefield Best-in-Class '18 — Property Marketing Honorable Mention
Next Project
Check out another project.